Silicone Wristbands (Wristbands)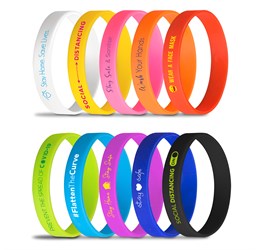 Our range of silicone printed wristbands is extensive a includes plenty of different colours that you can choose from. So, you'll have no trouble picking out the perfect silicone wristbands to suit your needs and branding. Whether you're creating charity wristbands to raise some money for a worthy cause, or you're looking for an easy way to categorise guests at an event, you'll find what you need here.
Through our wristband printing service, all of these products can be branded with your logo or company name. So, whenever someone puts one of these promotional wristbands on, they'll be reminded of the fantastic work you do. Plus, if they wear it out and about, they could help to raise awareness of your business or cause.
Size
Quantity
Price
Silicone Wristband
100
N 70,000.00
200
N 800,000.00
300
N 120,000.00
400
N 140,000.00
500
N 150,000.00
600
N 180,000.00
700
N 210,000.00
View More